Best AV Home Theater Receiver Under $500
Best Budget AV Home Theater Receiver Under $500, $600 with compatible 5.1, 2.1 surround sound channels. Best Cheap entry level AV Home Theater Receiver 2021, 2020, 2019 models.
Best AV Receiver under 500
One has seen numerous amazing home theater receivers especially after 2020 and 2021.
There are quite incredible receivers available in the current market from premium brands like Sony, Pioneer, Onkyo and Yamaha. There are many contenders with the Yamaha RX-V483BL, Sony STR-DH790 few among the top-rated products.
It has impressive potential to stream 4K Ultra High-Definition videos and high-resolution audios through features like HDR HDMI, DTS-X, Dolby Atmos etc.
One can choose the best home theater receivers support both 5.1 and 7.1 Channel surround system and some even supports a 5.1.2, 5.2.4 or 7.2.2 Channel surround sound systems. These features tremendously enhance the listening experience.
Best AV Receiver under $500 2021 List
A buyer guide containing all the valuable features, technical specifications and home theater receiver reviews is an important tool to understand about the receiver's capability. Here some answers to the basic frequently asked questions (FAQs) regarding home theater receivers. This will help in having more detailed knowledge before the purchase of your entertainment setup.
Sony STR-DH590- Top Rated Best AV Home Theater Receiver Under $500
The Sony STR-DH 590 receiver is well built product that offers amazing features at a very affordable price tag.  4 HDMI inputs with HDCP 2.2 signal handling for smooth processing audio.
It supports 4K video and Dolby which enhances the video viewing experience. Audio decoding formats like DTD HD Master Audio and DSD for the better audio experience.
One smart feature of the receiver is its Bluetooth connectivity option. The additional feature is the Bluetooth standby mode which can turn the receiver on straight from the paired smartphone.
The receiver also features a very useful option known as the Digital Cinema Auto Calibration (D.C.A.C) which automatically analyses the room acoustics to calibrate and adjust audio levels and settings of the of speakers. This optimises sound in the room and gives the best sound experience settings.
The S-Force Pro front surround technology also a user to properly configure and use speakers in a small room. The technology uses virtual surround acoustics field using only two speakers.
The back-panel sports one digital audio input, one coaxial input, four stereo audio inputs, FM antenna inputs and two subwoofer pre outs. Overall, the receiver is quite versatile and offers good features, which are very satisfactory and worth it for this price tag.
Pros
Good build quality and branding
Impressive performance/price ratio
Impressive performance/price ratio
4K video and high-quality audio supported
Cons
Lacks warmth in sound output
Does not play high-resolution content directly from USB or Bluetooth streaming
Sony STR-DH790- Best AV 5.1 Home Theater Receiver Under $500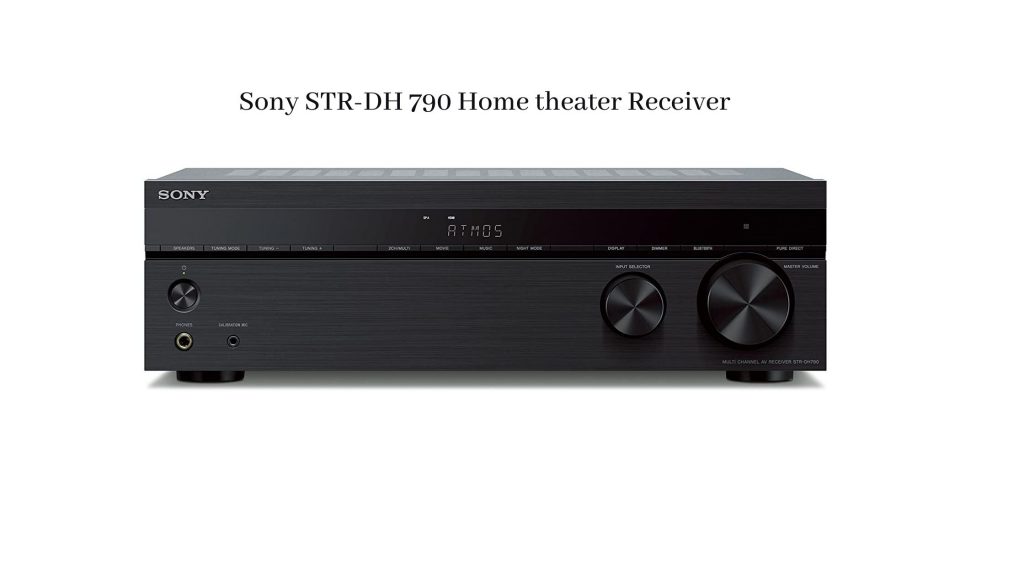 The Sony STR-DH790 is flexible and can easily setup even 5.1.2 and 2.1 channel speaker systems. It intelligently calibrates room acoustics to deliver stunning sound experience.
It also supports smart Bluetooth standby technology, which can control and switch the receiver on and off directly from the paired smartphone.
The design and look are also very premium and fits very well in the home décor. On the whole, the receiver is very impressive and sports amazing features at this price tag.
One can definitely trust this product to deliver stunning audio and video experience.
Pros:
Impressive sound output performance
Smart Bluetooth technology
Premium features at very affordable price
Cons:
It is not rated to drive 4-ohm speaker system
Spring-clip speaker terminals
No AM connectivity
 Yamaha RX-V385- Best  Bluetooth AV Receiver under 500
The eARC (Enhanced Audio Return Channel) technology delivers full-resolution, multi-channel audio formats such as Dolby TrueHD and DTS-HD through HDMI connection, which gives one of the best immersive surround sound experience.
The installation process is very easy there is an AV Setup guide available to be used in mobile phones or tablets. It effectively guides the users to go through various settings of the receiver and configure it properly.
The overall impact of the receiver is pretty impressive at this price tag.
Pros:
YPAO Sound Calibration
HDMI with Audio Return Channel
Easy connectivity to Bluetooth and other channels
MusicCast feature for Multi-room playback
Cons:
Lot of features in a single setup may seem confusing for people who are not familiar with technical aspects of receiver
Onkyo TX-NR787- Best Budget Home Theater Receiver Under $500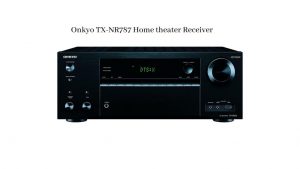 To conclude we can definitely say that the Onkyo TX-Nr787 is a very powerful receiver filled with advanced technology and good build-in quality.
It is a very strong contender among high-end receivers delivering premium features. The highlight is that this receiver delivers impressive premium features at a very affordable price range.
Pros:
Very powerful to connect heavy speaker systems and stream high quality content
1.4 and 7.2.2 channel surround sound options
AccuEQ advances room calibration technology
THX certified theater like quality
Remote control accessible on mobile phones
Cons:
A very basic remote-control setup
No multi-channel pre amplifier outputs
Onkyo TX-SR575- Premium AV Home Theater Receiver Under $500
The dynamic audio amplification delivers massive power at 170 Watts/Channel.  It also has 6 HDMI input ports and 2 Optical Digital Input ports for smooth connectivity. This receiver is really a game changer in mid-range price range receiver market by offering some premium features to enhance the home theater experience.
Pros:
Clear and bright video images from 4K video formats
Impressive streaming capabilities including Chromecast built-in and DTS Play-Fi
Good quality surround sound and 3D ready
Cons:
Volumes feels better on small to medium speakers than large speaker systems
USB connection ports are on the rear panel only
Also Read- Best home theater under 500
Marantz NR1608- AV Home Theater Receiver Under $500 for Small rooms
There is only a 50W output per channel may seem a little underpowered, but it still delivers decent dynamics and sound experience. High-resolution audio is elegant through this product, which enhances the audio experiences.
The overall performance of the receiver is satisfactory and exceptional in some particular areas like audio decoding.
Pros:
Dynamic and well-balanced sound
HEOS Multiroom integration support
4K video pass through and high-resolution audio decoding
Cons:
There is only 1 HDMI output
50W per channel output is best suited for small to medium and inefficient for larger rooms
Pioneer VSX-1123- Featured Home Theater Receiver Under $500
The receiver delivers pretty impressive sound experience through its advanced technology and premium features. One may find some minor issues in signal processing. Nevertheless, at this price range, this receiver is a good option but not the best.
Pros:
Premium features like AirPlay
Easy to setup – a instruction CD is included in the box
Sounds are clear and crisp for good
Cons:
No phono input
Lag when switching between inputs
Also read:Best Home Theater Speaker System under $500 Review
Also Read: Best Budget Soundbar Review- Under $200, $300
FAQs
How to choose a home theater receiver?
There are few things to keep in mind choosing a home theater receiver.
Number of channels: One channel means the receiver will support only one speaker. One needs to see which type of home theater system they have. If it's a 5.1 or 7.1 speaker system, one needs to get a receiver and accommodate the channels required so that the home theater speakers work fine.
High-resolution video and audio decoding: One should see if the receiver is compatible to play 4K UHD video and has advanced audio decoding technology like Dolby Atmos and DTS:X. This will help to enhance both the video and audio output quality in TV and home theater system respectively.
HDR formats: A good receiver should be compatible to stream all three HDR formats: HDR 10, DV and HLG formats for the best viewing experience.
Multi-room integration: If one wishes to make use of the speaker system across various rooms in the house then one should get a receiver has a multi-room integration feature build in it, which will enable the user to connect and stream music anywhere from the house wirelessly.
Wireless Connectivity: It is an undeniable fact that wireless connectivity is one of the best features available right now and it would really be unfair if one doesn't use this smooth technology. A receiver should be compatible to wireless connect with devices and stream audio
What is a home theater receiver?
In simple words, a home theater receiver (also known as AV receiver) is a connection hub of a variety of video, audio features bring immersive and impactful surround entertainment experience to your home.
A receiver is the heart of a home theater system processes high-resolution videos and decodes high-resolution audios to deliver it to the TV screen and home theater speakers respectively.
A receiver has built-in multi-channel amplifiers to boost the surround speaker sounds. It connects all the necessary video and audio cables and signals the content to various appropriate channels for a home theater experience.
How to buy a receiver for home theater?
Here are some tips on how to buy a receiver for home theater system:
Firstly, one needs to see if the receiver has sufficient number of channels to connect all the speakers and the subwoofer. If one owns a 5.1 home theater system then the receiver should minimum have 5.1 channels to connect all the devices.
One needs to assess features provided in the receiver and see if it is capable to delivering high-resolution audio and video. This will ensure a satisfactory and enhanced home theater experience.
Power: One needs to see if the receiver is capable to meet power needs. The power is determined by the power of the speakers and by size of the room. If one gets an average receiver to support a heavy 5.1 speaker system for a big room then the receiver will not work properly and the experience will be unsatisfactory.
One should also choose a receiver offers best-in-class features at an affordable price. If one gets a receiver features not useful for a user then both the technology and the money invested will go in waste.
One should also see if receiver is compatible to support wireless connections so that one can easily enjoy content through control of their smartphones.
The best home theater receiver plays a unique role to connects the speaker system for transmitting audio. A receiver decodes high-resolution video and audio formats, provides wireless connectivity and also helps automatically configure the speakers according to the room acoustics.
A person should buy a receiver compliments and supports all features of the home theater speaker system and the television so that the video and audio experience is maximised. One can go for premium receiver manufacturing brands like Onkyo, Sony, Yamaha and Pioneer provides advanced technological features with impressive built-in quality.
TAGS-
best av receiver under 500
best receiver under 500
best avr under 500
best home theater receiver under 500
best audio receiver under 500
best receivers under 500
best audio receivers under 500
best av receiver under $500
best av receivers under 500
best av receivers under $500
best 4k receiver under 500
best a/v receiver under $500
best 7.2 receiver under 500
best home receiver under 500
best receiver under $500
best surround sound receiver under 500
top av receivers under 500
best home theatre receiver under $500
best home theater receivers under 500
best av receiver under 600
best av receiver under 400
best atmos receiver under 500
best 5.1 receiver under 500
best receiver under 400
best av receiver under 500 2017
best 4k receiver under $500
best stereo receiver under 500
best receiver under 400
best receiver for 500
best budget 7.1 receiver
best budget av receiver 2020
budget av receiver
best a/v receiver under $600
best budget av receiver 2017
cnet best receivers
best 2 channel receiver under 500
top av receivers 2017
best home theater receiver under 400
best av receiver 2018
cheap 5.1 receivers
budget av receivers
best hdcp 2.2 receiver
best budget surround sound receiver
best stereo receivers under 500
onkyo tx-nr585 review
best 2 channel stereo receiver 2017
best onkyo receivers
5.1 receiver cheap
best budget receiver
best budget av receiver 2019
best budget 5.1 receiver
best cheap receiver
best cheap av receiver
budget receivers
best budget home theater receiver
best 5.1 receiver 2017
best home theater receivers 2017
best budget avr
best audio receiver 2017
cheap av receivers
budget receiver
cheap hdmi receiver
cheapest 5.1 receiver
best budget receiver 2019
cheap 5.1 receiver
best budget avr 2018
best value 5.1 receiver
cheap av receiver
surround sound receiver cheap
best budget receiver 2018
budget home theater receiver
top home theater receivers 2017
best budget receivers
good cheap receiver
best budget atmos receiver
cheap av receiver hdmi
cheap onkyo receiver
best budget reciever
best affordable receiver
best budget audio receiver
best home receiver 2017
best receiver deals
cheapest dolby atmos receiver
5.1 receiver deals
best entry level receiver
inexpensive av receivers
best home stereo receivers
cheap reciever
good cheap receiver
best home theater receivers 2018
best cheap home theater receiver
budget surround sound receiver
best inexpensive receiver
budget 5.1 receiver
cheap home theater receiver
best budget 4k receiver
best cheap 5.1 receiver
best surround sound receiver 2017
cheap av receiver with hdmi
best cheap audio receiver
cnet av receiver buying guide
best low cost receiver
cheap audio reciever
best budget home theater amplifier
denon 750h
low cost receiver
best affordable av receiver
best inexpensive home theater receiver
best stereo receivers 2017
good cheap receiver
cnet av receiver
inexpensive surround sound receiver
best onkyo receiver
best av receivers under 300
inexpensive av receiver
stereo receivers best buy
cheap surround sound receiver
audio video receiver ratings
cheapest av receiver
budget av receiver reviews
best cheap home theater receiver
onkyo vs sony receivers
best cheap surround sound receiver
onkyo receiver deals
budget audio receiver
budget stereo receiver
affordable av receiver
5.1 receiver cheap
cheap home receiver
onkyo vs denon vs yamaha
av receivers cheap
best low cost av receiver
cheap receiver for speakers
best affordable home theater receiver
best low cost home theater receiver
cheap dolby atmos receiver
best buy av receivers
cheap receiver and speakers
dual room dual source receivers
cnet best av receivers
onkyo vs sony av receivers
cnet audio receiver
onkyo 2 zone receivers
onkyo dual zone receiver
cheap receivers
7.2 receiver deals
onkyo 7.1 receivers
best budget dolby atmos receiver
home theater receiver deals
best av receiver deals
cheap receiver
cnet stereo receiver reviews
cheap audio receivers
inexpensive receiver
yamaha vs denon vs onkyo
onkyo vs sony receivers
onkyo reciever reviews
onkyo 7 channel receivers
stereo receiver cheap
cheap 5.1 surround sound receiver
av receiver deals
denon vs onkyo sound quality
denon receiver deals
inexpensive stereo receiver
best cheap stereo receiver
good cheap receiver
good cheap receiver
good cheap receiver
cheap receiver for surround sound
cheap audio receiver
4k pass through receivers
inexpensive av receivers
onkyo receiver best buy
cheap home audio receiver
cheap home theater amplifier
cnet av receiver reviews
onkyo hdmi receivers
stereo receiver deals
onkyo atmos receivers
yamaha receiver deals
best stereo receiver with airplay
budget audiophile receiver
yamaha hdcp 2.2 receivers
cnet home theater receivers
cheap stereo receiver
discount home theater receivers
yamaha rx-v685bl review
best stereo amplifier under 500
best budget av receiver
cheap stereo receivers
inexpensive audio receiver
onkyo receiver price
best inexpensive stereo receiver
audio receiver deals
best cheap home theater receiver
cnet audio receivers
good cheap stereo receiver
best home theater under 500
denon avr 790 specs
500 watt receiver
onkyo multi zone receiver
home theater under 500
stereo receivers cheap
cheap receiver and speakers
video audio receiver
multizone av receivers
cnet best tv under 500
discount av receivers
av receiver deal
discount receivers
receivers on sale
denon receivers support
cheap receivers
is onkyo good
dual room dual source receiver
onkyo vs yamaha receiver
amazon receivers
onkyo – tx 7.2-ch. hi-res 4k hdr compatible a/v home theater receiver
yamaha vs onkyo receivers
onkyo vs sony
onkyo 7.2 home theater system
best 5.1 speakers under 500
best low cost stereo receiver
discount home theater receiver
where to buy receivers
onkyo 7.2 surround sound home theater system
onkyo vs sony
new receiver
onkyo receiver review
best tv under 500 reddit
500 watt stereo receiver
onkyo stereo receiver reviews
denon receiver price
best buy onkyo receivers
onkyo audio video receiver
cheap airplay receiver
best home stereo system under 500
onkyo receiver reviews
onkyo 2.1 receiver
sony 500 watt receiver
cnet hdmi
500 watt surround sound system
onkyo stereo receiver review
onkyo receivers at best buy
receivers with bluetooth and airplay
yamaha 500 receiver
best buy onkyo receiver
onkyo 600 watt receiver
sony strdh 500
onkyo home theater receivers 5.1
av receivers with airplay
hdmi 2.1 av receiver
hd home theater receiver
connect alexa to onkyo receiver
hdcp 2.2 vs 2.3
av receivers hdcp 2.2
avr 500
4k bluetooth receiver
denon avr 500
denon avr-s750h review
denon 750
hdmi pass through receivers
sony790
onkyo amplifier price list
av receivers airplay
best dac under 500 dollars
sony str-dh790 review
best phono receiver
onkyo best buy
av receiver clearance
best dac under 500 dollars
cnet mp3 players
dolby vision vs hdr10 reddit
dennon 500
cnet subwoofer review
tv under 500 dollars
buck dolby
alexa compatible receivers
4k pass through receiver
a/v home theater receiver
denon 790
2 channel receiver with airplay
denon 500
receiver with hdmi and phono
sony str dh790 review
denon avr e300 review
yamaha 750 receiver
best home theater subwoofer under 500
4k passthrough receiver
str dh790 review
hd antenna review cnet
best media receiver
best stereo preamp under 500
avr s510bt
best integrated amplifier under 500
sony dh790 review
usb av receiver
discount stereo receivers
avr-s510bt
av receiver with usb video playback
best $500 subwoofer
heos vs musiccast
airplay home theater receiver
used stereo receivers
receivers with hdcp 2.2
sony str-dh790 reviews
dual stereo receiver
receivers with airplay
4k ready receivers
avr 790
best audio receivers 2015
alexa av receiver
best budget av receiver 2015
best airplay receiver
stereo receiver with usb input
receiver deals
str dh750 best buy
best power amplifier under 500
cheap home amplifiers
avr-790
receivers with usb
digital media receiver with bluetooth
cheap home stereo
vsx-59txi
multi room receiver with airplay
best soundbar under 500 dollars
stereo receiver craigslist
receiver with phono input and hdmi
streaming receiver
best 4k hdr tv under 500
best powered subwoofer under $500
alexa enabled receiver
onkyo tx nr636 best price
buy onkyo
receivers compatible with alexa
500 watt home theater system
yamaha rx 750 stereo receiver
stereo receivers usb
best amplifiers under 500
cheap car stereo receiver
home stereo receiver with usb input
best 80 receiver
yamaha htr 5750 receiver
home stereo receiver with usb port
home stereo receiver with usb
top av
dolby atmos receiver