Best Home Theater Speaker System under $500 Review
The Best Budget Home Theater Speaker System review under $500 with 5.1 Surround Sound. The Review based on Price, Quality, and Brands and here Reviews Top brand like Yamaha, Sony, Philips, Klipsch, Philips, Onkyo, Acoustic and Logitech. Home theater systems are slowly becoming a necessary commodity in households for music and entertainment purposes. Here we will discuss some of the best budget home theater systems under $500.
Best Home Theater System under $500 List
Yamaha YHT-5950U – Best 5.1 Home Theater System under $500 in 2020
On the whole, the Yamaha YHT 5950u offers pretty top-quality features at a very affordable price tag. One is certain to experience a wonderful sound with this home theater system.
Pros:
Streaming audio quality is excellent

Multi-room audio playback support

Premium features like 4K Ultra HD Passthrough, HDMI, Dolby Vision, HDR10 and DTS.

Good Price/Performance Ratio

 Good quality AV Receiver included

Microphone included for automatically setting up room acoustics through YPAO
Cons:
Plastic speaker cabinets

Comparatively smalls subwoofer and so the bass would be above average and satisfactory but not great

Middling audio performance
2.Klipsch HDT-600 – Best Budget Home Theater System under $500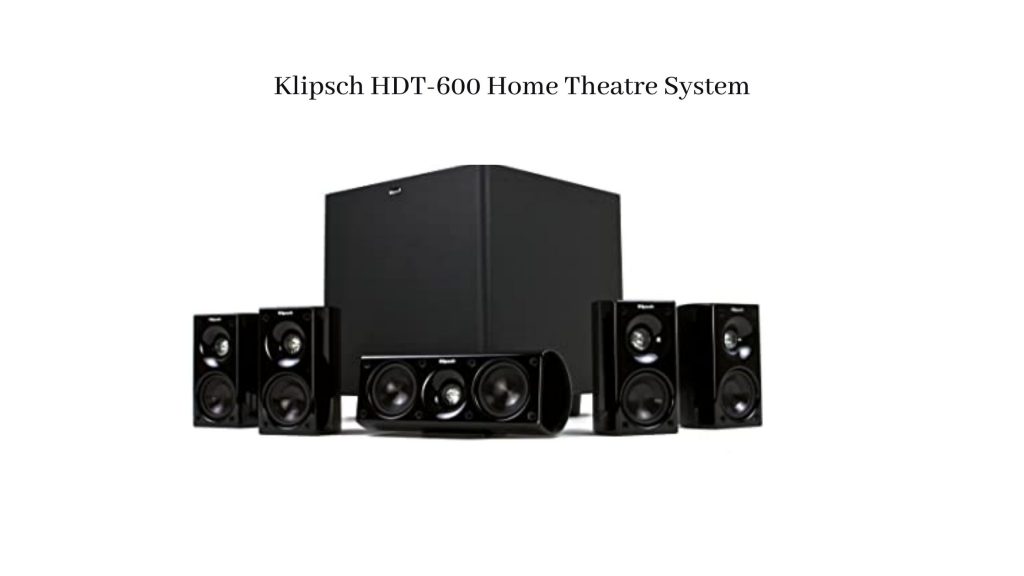 The Klipsch HDT-600 5.1 channel home theater system is a placement sensitive speaker system and so it is very important to place the speakers at right angles and volumes to get the maximum output. Once set properly, this home theater system will surely deliver impressive sound experience.
Klipsch HDT-600 5.1 channel home theater system pros and cons
Pros:
Good mid-range acoustics articulation
Impressive subwoofer
Well balanced and clear sound especially for dialogues in movie sessions
Compact and sleek design
Dedicated tweeters in each speaker adds on to the sound effect
Cons:
Hard to position and place manually
Spring clip speaker wire terminals which isn't as efficient as pin ports inputs
No Bluetooth
No Wi-Fi streaming
No in-box receiver included thereby no direct connectivity to HDMI and high-quality audio/video formats
3.Acoustic Audio AA5210 – 5.1 Home Theater Speaker System under $500
The Acoustic Audio AA5210 5.1 home theater system is suited for those who simply enjoys plug-and-play functions to stream music via Bluetooth or audio jacks. It is quite cheap product. Acoustic Audio AA5210 is the Best 5.1 Home Theater Speaker System under $500
Acoustic Audio AA5210 5.1 Home Theater pros and cons
Pros:
Very cheap and affordable
Bluetooth, USB and SD card connectivity
Easy setup
LED lights for a vibrant look
Good speakers and subwoofer according to the price range
Cons:
No premium technology available
No direct HDMI connectivity for high quality video and audio passthrough
Poor branding
Average sound experience
4. Logitech Z506 – Best Surround Sound Home Theater System Under $500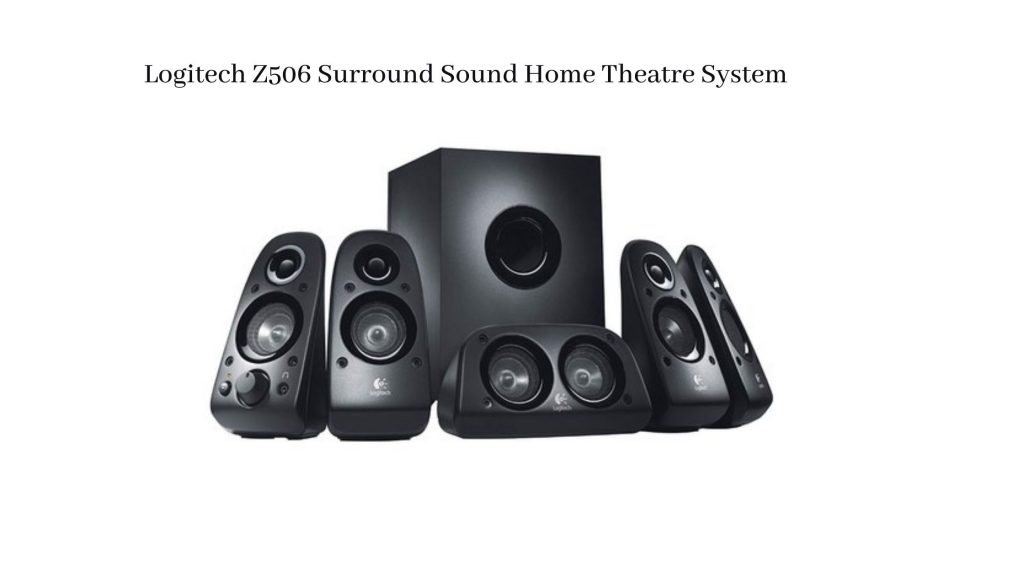 To conclude, this 5.1 surround speaker system is very impressive speaker set in this price range giving a wholesome music experience. . Logitech Z506 – Surround Sound Home Theater System with detail pro and cons
Pros:
Good branding
Crisp and clear sounds, especially from the center speaker
Decent down-firing bass
Dedicated inputs for headphone jack
Good build quality
Cons:
No Bluetooth or wireless connectivity
No remote control
No HDMI supports
No high-quality audio decoding like DTS
No wall mount space in the satellite speakers
5.Philips HTS3371D/F7 – Best Home Theater System Under $500 with DVD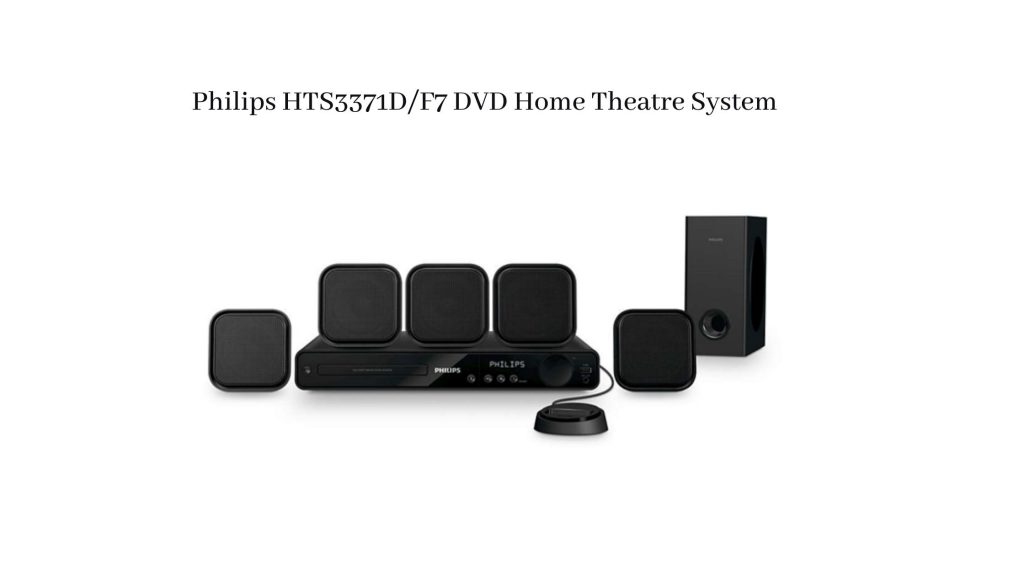 The sound quality is pretty balanced and clear which will definitely give satisfactory outputs. This device is perfect for a small to medium room setup and also fits well due to its compact and sleek design. The Philips HTS3371D/F7 can be a genuine contender in this budget 5.1 surround sound home theater system.
Philips HTS3371D/F7 Home Theater System pro and cons
Pros:
Easy to setup
Fills a small to medium room perfectly with controlled volume levels
Decent crisp sounds
No noise distortion or humming from speakers or subwoofer
Multiple connections available which enable to use HDMI, DVD, Coaxial ports or USB according to the need
Cons:
Additional cables are required as included cable wires may not be sufficient for a medium to large rooms
No separate individual bass control available on the subwoofer
The volume configuration is bit flawed. The sound may not seem to increase or decrease in equal proportion between consequent volume levels.  
No Wi-Fi wireless connectivity
6.Sylvania Curtis- Best 5.1 Home Theater under $500
In conclusion one can simply say that this is not a recommended option at all as it doesn't provides any satisfactory features. One can definitely get better quality speakers in the market even at this price range. One may simply use this system if one wants just a better sound option than the TV and also an option for DVD connectivity. Sadly, this device doesn't impress as its name. The speakers are pretty small and inefficient and bass is just decent enough for a louder sound experience and not an immersive quality sound entertainment experience.
Pros:
DVD player connectivity
Very cheap and affordable product
Cons:
No quality sound output from the speakers
Sounds are just loud and not immersive
Poor remote control
No HDMI support and high-quality audio support
Poor built quality  
Also read : How to connect Home theater to TV
7. Onkyo HT-S3500 – Best 5.1 Channel Home Theater Speaker/Receiver Package under $500 ( out of stock in Amazon)
To conclude, the Onkyo HT S3500 Home Theater System is an amazing product in this price range. The sounds are clear and vibrant especially the bass which is very powerful. The receiver supports all high-quality formats and even 3D audio and visuals. The hardware is also impressive and well built. This is highly recommended for anyone who wishes a wholesome home theater system at an affordable price. The branding adds trust to the device and the technology used.
Pros:
Speakers can be calibrated according to one's sound preference and placement
Multiple video and audio inputs options
High quality audio and video decoding available
Effective remote control to control every setting of the home theater system
Cons:
The receiver may tend to become hot in prolonged heavy use
FM receiver is not very good
Not available in market
Conclusion:
Here we have seen various products which are best home theater system under 500. These affordable home theater systems can prove valuable to everyone who choose it. One should always weigh in and analyse their usage and demands before selecting a product as a single feature.
After seeing elaborated comparisons between the aforementioned home theater systems, we can conclude that two out of them stands as most recommended and advanced speaker system at such an affordable price; The Yamaha YHT 5950U and The Onkyo HT S3500 both these home theater systems have very premium features which are very crucial for amazing sound and video experience with just nominal difference. The main difference I found between the two products is that the Yamaha YHT 5950u has Automatic acoustics calibration system which uses a mic to assess the speaker placement and calibrate it automatically to give the most suited settings and sound experience. Moreover, the Yamaha YHT 5950u also sports multi-room audio playback support which can be a game changing feature for music maniacs. Subwoofer bass on the Onkyo HT S3500 can be seen as more powerful.
In best budget home theater system under $500, both products have almost equal when it comes to build quality, sound quality and use of technology. If one prefers automatic calibration of speakers then Yamaha would be the ideal choice but if one prefers powerful bass the Onkyo would be a perfect option.