Best Speaker Wire for Home Theater
The best speaker wire will vary by type of application. Home theater applications require different criteria than audio system applications, so it is important to understand what features are most crucial for your specific needs.
How to choose Best 14 Gauge Speaker Wire Cables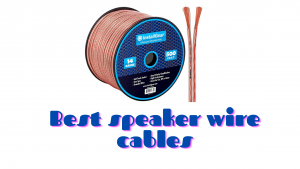 Recommended speaker wire gauge
The gauge of the speaker wire is the most important feature while purchasing them. Speaker wire gauge refers to the thickness of the cable. AWG (American wire gauge) is the standard used. The gauge size is represented by numbers which is from high to low. The higher number means lower thickness and lower number means thicker wire. The most common gauge sizes are 12, 14 and 16 and these are ideal for home theatres or for music systems. We have said that the gauge size matters the working of speaker wires. Higher number indicates thicker wires and have the capability to decrease resistance. For the best performance of speakers, the resistance needs to below a specific level.
Another point is about the connectors. If you want connectors banana connectors are preferred. Choose terminating speaker cables and avoid bare wire.
Check the materials used and purchase according to the quality.
Check for the quality of insulation because it does matters. Ensure that the insulation is capable of rejecting frequency noise.
For high powered systems and longer cable lengths greater than 10 metres 12 gauge or 14-gauge speaker wires are good. Similarly for low powered systems and shorter cable lengths 16 AWG, 18 AWG or 20 AWG is better.
Best 14 Gauge Speaker Wire Cables
Go with 12 or 14 AWG for speakers with lower impedance. In conclusion it is always better to buy smaller gauge wires having thicker copper conductor and better ability to pass the amplified signals.
This is one of the affordable and quality products available. Different varieties like 100ft 16 gauge, 50ft 16 gauge, 100ft 14 gauge are there. Among them 100ft 16-gauge wire cable serves the best output. A plastic jacket is provided around the speaker which acts as a good insulation. Also, this plastic jacket helps in delivering high quality signals with undistorted and powerful audio. Since it helps to identify the polarity easily it helps in setting audio system properly. To distinguish the polarity a white line is marked on one side and it literally helps out.  Considering its price, it does not show the distortion which is good. It is stranded to make the product to increase the durability. But when separate the wires from jacket its very easy for breaking and leaves tiny shards of wires. This not 100% copper. This is good for general use.
This is a best cable of 100 feet. This cable wire is 14-gauge AWG thickness and help in reducing various electrical interference. Though most of the audios prefer 12 gauge, it does the work clearly. The wires have unique colour combination and this blue, brown colour code helps to identify which to plug in and plug out. Identifying polarity helps to stay away from damages to the audio equipment. The jacket on the cable is flexible and allows for easy routing and low memory.  This have well stranded wires and the cable is soft as well as flexible. This is not pure copper and is copper clad aluminium (CCA) which act as a mediator for conducting audio transmission. This are good for beginners.
This provides very good audio experience so that more apt to work in dedicated space or people who wanted to install premium speakers. This wire delivers good audio experience. They make sure that audio will be free from unwanted pops and delivers a proper crystal-clear audio. The 14-gauge copper stranded wire with PVC jacket to supply insulation feature. Another fact is that it is pure copper wire cable. It is a quality speaker wire manufactured in USA with professional touch in it.
This is a high-quality 14-gauge speaker wire with unique oxygen free bare copper construction. It weights 4.6 pounds and can easily make movements around 100 feet, and great if long wire connections are done. This can be used inside the walls without doubt. It is because of the CMP rating that indicates about the fire safety and insurance requirements. They incorporated pure copper conductors with purity of 99.95% oxygen free copper. This is one among the best copper wires that ensures conductivity durability and definitely safe to use with. This is light weight and covers the wires with good quality jacket that are capable of preventing internal damages.
These are 3 feet speaker cable with two conductors. GLS is one of the top brands known for their quality products. The cable has a reusable hook that helps easy in motion and minimize the chances of the cable to undergo damages. This is made up of copper and weighs 4.2 ounces. As we discussed this is built with supreme quality and have thick 10.5mm durable and flexible rubber jacke that attracts the cable. This are made up of professional quality. It does not heat up even in high load.
FAQ
1)Which is the best speaker wire on the market now?
One of the best and most reliable speaker wire on the market is Monster Cable. It is a producer of cables and accessories for home audio systems, cars, and professional studio equipment.
It uses copper to create its speaker wires which are 100% shielded and plated with silver for maximum signal.
2)IS premium speaker cables a ripoff?
They are not a ripoff. They are a good investment.
There is a difference between high-quality speaker cables and premium speaker cables. High-quality speaker cables may not be as long as premium speaker cables, but they offer the same sound quality and durability.
3)What is the best speaker cable for a home theater?
The best speaker cable for a home theater is the Monster Cable CMR-200. This cable is well-designed and durable and has a lifetime warranty. It features a 2.5mm jack that will accommodate most audio devices and has a frequency range of 20Hz to 20kHz.
4)Can you use an electrical wire for speakers?
This is a difficult question to answer since it would depend on the size of your speakers and how thick the wire is. It may be possible but will not be ideal.
5)Does a speaker cable affect sound quality?
Speaker cables are the most important part of a system. They are the connectors that connect the speakers to the amplifiers. The cable is responsible for transmitting electrical signals from one device to another, carrying out most of the sound produced by speakers. It also plays a vital role in adjusting speaker impedance and terminating speaker cable with banana plugs or spades.
6)What are the speaker wire colors? What does each mean?
Blue- This is the standard speaker wire color. It is used in most audio systems, televisions, and computers.
Green- This speaker wire color denotes that it is shielded to prevent interference with other electrical devices. It is commonly found in computer speakers.
7)How should speaker wire be cut?
The speaker wire should be cut with a sharp object like a razor blade or knife.
what gauge wire is best for Home Theater Speakers?
If you're using home theater speakers that connect via RCA cables, then 16 gauge speaker wire is best. Otherwise, 12 or 14 gauge wire will be ideal.
Different gauge wire is best for different types of speakers. For example, if you're using a speaker with a wire that's too thin and doesn't have enough current, it can easily cause distortion. If you use the wrong type of wire, the sound will be distorted and loud. So it's important to know what gauge of wire to use for each type of speaker so the sound quality is optimal.
Buying Guide for Best 14 Gauge Speaker Wire Cables
The purpose of the speaker cable is to make electrical connections between speakers and amplifier. Amplifier send audio signal to the speaker and current powers the speaker drivers for the output.  Speaker wire and amplifier do not come together so that need to purchase both separately. The audio experience depends on the speaker wires also.
Buying a proper speaker wire is important and one side will be clearly marked with a line. This helps in connecting positive to positive and negative to negative to the amplifier and speaker. To know about the quantity of speaker wire required, use a string to measure the length from the receiver or amplifier to speaker locations. Along with the measured length add little more for the easy implementation. Copper, copper clad aluminium (CCA) and silver are the 3 main conducting wires used. While purchasing speaker wires some points need to keep in mind.