How to Choose Best Home Theater System
The guide will help to choose what factors to consider while choosing the Best Home Theater System.
We generally check what is the best home theater available in the market by analyzing Products of various Brands on budget, Price, and other Technical aspects.
What helps to Choose the Best Home Theater System
Other than the technical aspects of a home theater system, one also needs to keep in mind few other determinants before going for the purchase.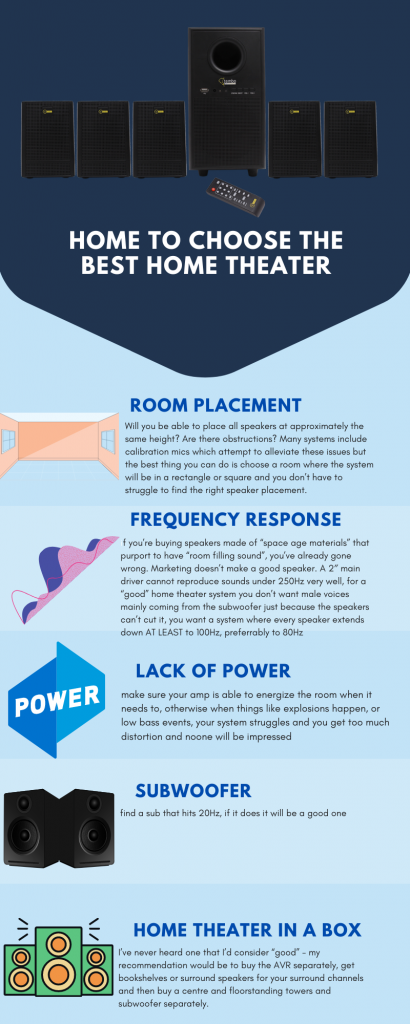 Factors to Consider while Choosing Best Home Theater System
4 main factors to consider while selecting the Best Home Theater System
1.) Size of the room: Buying a small home theater system like 2.1 or 3.1 surround sound systems for a big room will not be faulty as the sound experience delivered may not be satisfactory. Similarly, using 5.1 or 7.1 home theater systems in small compact/congested room will overtly create disturbance in sound experience.
2.) Budget: Buying a product of utility like a home theater system is more to achieve a sense of satisfaction in the sound experience. And so, I feel that one should invest their hard-earned money in buying a best home theater in the market and maximize their satisfaction rather than sticking to budget and feeling less satisfied. We need to remember that home theater systems are long term investments and so spending an extra few bucks on the products would not incur loss. Satisfaction is very subjective and so at the end of day its our personal take on things. If one feels comfortable and satisfied by using a budget home theater system, then its alright.
3.) Streaming facilities: Wireless streaming of music is more preferred by people these days as it adds to the comfort and experience of the user. And so, while selecting a home theater system, one should assess if they need a system which can wirelessly connect to their mobile phones, TV or laptops.
4.) Décor: This is a very personal matter as the sense of décor if every individual is different. Adding a good looking and premium sound system will definitely enhance the ambience of the living room décor. One should try to look for a home theater which fits in the room and not stand out in room making its appearance overpowering or bulky.