Bass Booster on MAC | Window- Simple Tips
This topic will provide you the information about How to Increase Bass on Headphone or earphones and learn. How to Increase Headphone Bass on Windows | Mac | Android. Learn the efficiency of your headphone by Base Boost test. Check Top 5 best Bass Boost Headphones.
How to Increase Headphone Bass on Windows | Mac
Whatever you are using, Having the right amount of bass for your earphones is needed for a unique listening experience for all music lovers. 
How to Increase Headphone Bass on Windows
The sound quality is essential from your PC. The exact sound you will hear is based on the range of things like audio you are listening to, the earphones or speakers you are using, and the mix levels of the audio. Suppose your speakers don't provide much bass if you want to turn up the bass especially. Follow the below steps to boosting your bass on your headphones.
Steps to boost Headphone bass on Windows
Go down to the taskbar, and there you will see the little icon at the bottom, which appears like an arrow, click that icon that is facing up and which is like the sound speaker icon.

Now click on the Sound speaker icon, here you will see some options which are popped up.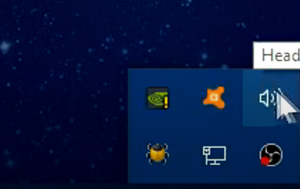 Again, click on the playback device.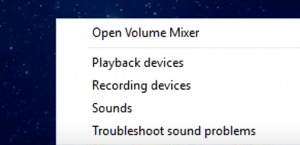 Here you will see the one you are currently using and right-click on it, and go to the last option properties.

In properties, skip the levels, general and advanced tabs. Go to the Enhancements tab and select the BASS BOOST option (which helps to increase the bass in your Headsets).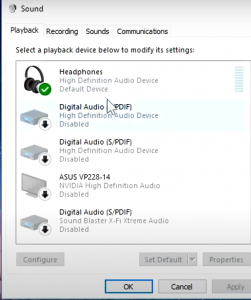 You want to apply this feature. Then you should click on the OK button.

Then your bass will be boosting bass now. If you want to check it, then go back to that video and listen to it.
If you don't like the changes you made, you can set everything back by selecting the "RESET" option.
How to Increase Bass on Headphone on Mac
If you want to increase bass on your headphones on Mac with a Music equalizer, through a balance, you can customize the bass for various genres, in rooms, broad areas, or speakers. I'm going to explain to you How to boost the bass on earphones on your Mac. We can choose and adjust bass manually, and also, we can save the previous settings as a pre-set so that we can apply those settings again. By changing the sound enhancer, we can also add depth and enliven the music quality.
Here we are going to download the program called EQ Mac. This EQ Mac is called a Mac equalizer. Can turn the bass up and down and get rid of the trouble. You can also handle all the controls and also get that customized sound. In this order, you can increase the bass on your Mac by following these steps.
 How to increase bass on MAC Headphone:
Simple steps- How to increase bass on MAC
Open your browser and search for EQ Mac and click on the website Bitgapp EQ Mac2
You need to click on the Download option here
Now, after completion of downloading the file, Here opens up your file

Drag into applications and now click on that icon

Open it, and then it should appear here.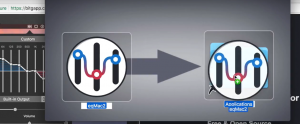 In the below picture, you can see how the lower frequencies appear in a curved line.

So, If you want to increase bass-heavy, turn up the level by dragging it up like a curved line.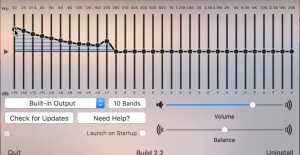 In the below picture, we have shown that if you turn the level up, then immensely tine sound raises, so that's how it will provide you bass and less than the tunes down.
That's it, simply following these steps, you can boost the bass on your Headphones on Mac.
Best Bass Boosting Android Apps
Bass Booster: This bass booster app is considered a multi-tasker that will provide any sound you want. Once you start using this app, you will be thrilled about how powerful the app is, and due to its features, the Bass booster app will satisfy all the music lovers out there. It has 5 level equalizer and 20 sets in advance. We can listen to music genres like jass, rock, techno, Pop, countrywide and many more. The Bass Booster app has four themes; you can also check the sound frequency, deep sounds and listen to sounds of individual instruments.
Equalizer & Bass Booster: The Equalizer Bass booster app elevates your selected music frequencies and sometimes minimizes the bass to get the 3D sound effect. By this, you can experience the best music on your headphones. Not only for audio, but This app provides the best experience for video viewers also. People should open a video and click on the "TAP ADJUST THE VOLUME" option, and the equalizer has five levels of frequencies. For settings, it has ten functions. The main screen has four various widgets, four amazing specters for frequencies.
Bluetooth speaker volume booster bass: People search for a simple bass booster application to get fantastic music on your device. Through volume control and music level control features, you can adjust while listening to the music if you are interrupted by the phone calls, then the acoustic equalizer effect will help you.
Jet Audio HD Music player: The jet audio Music App is allowed to update our music and increase the bass. It can read all the different types of files like .mpc, .tta, .ogg, .mp3, .ape, .opus, .mid and many other files. This app is handy for all Android platforms. For equalizer, it has 32 modes. With this feature, we can get any sound we wish. It has 10 -20 leveled graphic equalizers, and AM3D Audio enhancer program, 14 Widgets, and a speed controller feature.
Subwoofer Bass booster: This Subwoofer bass booster app will help you handle your device's bass power. Just tapping the screen, control the volume, better bass, and enjoy deeper. If you are using a Subwoofer bass booster, you need to off all the remaining bass booster apps that work on your device. This app will work only when other apps are turned off.
How to do bass boost test for Headphone
Who wants to experience fantastic music test their bass for their headphones, then you can do test through Subwoofer Bass Test app. This Subwoofer Bass test helps to push your subwoofer and earphones to their extend. Due to its features, we can perform bass testing on our headphones. Let's get into the topic of How to do a bass boost test for Headphones.
Subwoofer Bass Test Features:
There are three audio features available in this subwoofer bass test.
Audio Feature – 1: Providing a bass frequency sweep between 300Hz to 1Hz
This audio feature helps you analyze the frequency of the volume of audios and how long your audio device can travel into frequencies of bass.
Audio Feature – 2: Generating a single bass frequency bass up to 70 Hz to 20Hz. In this feature, we can focus on a particular frequency to identify your audio device's limits of sound.
Audio Feature – 3: In this feature, it will allow two bass frequencies simultaneously. We can experience the best beat range of bass frequency and best vibes in prospect also.
Top 5 Bass Boost Headphones from Amazon
1) COWIN E7 Active Noise Cancelling Headphones: 
Brand Name – Cowin
Name of the Model – E7 Active Noise Cancelling
Color – Total 7 colors
Connectivity Mode – Wireless Mode ( Over-Ear )
It comes with Bluetooth headphones with microphone deep bass wireless headphones.

30 hours playtime for work/travel

Active Noise Cancelling technology, so noise reduction technology helps from traffic noise, office rush, travel, work and anywhere. You can enjoy your music, movies, and videos without any disturbance.

For both Wire and wireless modes, this noise cancellation function works.

750 mAh battery up to 30 hours playtime per charge.

NFC Technology and higher quality built-in Microphone and also 45 mm significant aperture drivers.

Headphones are available in nearly seven colors.
2) Soundcore by Anker Life Q30 Headphones
Brand Name – Soundcore
Color – Black
Connectivity Mode – Wireless Mode ( Over-Ear ), which is Comfortable Fit
Model Name – A3028 Soundcore by Anker Life Q30 Hybrid Active Noise Cancelling
A3028 Soundcore Headphones models come with Multiple Modes.

Hi-Res Certified Music we can hear clearly on Life Q30's because of 40mm drivers.

Can connect to 2 devices

A3028 Life Q30 is an ultimate Noise Cancellation Experience. We can get rid of airplane engine noise. Outdoor reduces traffic and people talking in the background noises and enjoy our music.

Earphones are comfortable because the ear cups are made with memory foam padding of ultra-soft protein leather.

Life Q30 up to 40 hours playtime per charge and just 5 minutes of an order will give you 4 hours playtime.
3) Skullcandy Crusher Evo Wireless Over Headphones
Brand Skullcandy
Connectivity Mode – Wire Mode
Model Name – Crusher Evo
Color – Black
Crusher Adjustable Sensory Bass and comes with Built-in Tile searching technology

Through the Skullcandy app, Personal Sound customization is available

About 41 hours of playtime per charge.

We can handle all the Call, track, and volume controls.
4) Altec Lansing MZX701 Headphones 
Brand Name – Altec Lansing
Connectivity Mode – Wireless Mode
Model Name – MZX701 Headphones
Color – Grey
MZX701 Headphones Comes with Omnidirectional Vibration to feel the music like listening to our subwoofers.

About 10 Hour playtime per charge and Voice Assistant Integration available

Just Ask features allows us to access our Siri and Google voice assistant through Bluetooth on your device to send an SMS, ask to call or weather conditions, and more.

Dynamic bass helps you to add music controls so that you can accept/decline the SMS calls.
5) Active Noise Cancelling Headphones HROEENOI JZ02 
Brand Name – HROEENOI
Connectivity Mode – Wireless Mode
Model Name – HROEENOI JZ02
Color – Black
The Active Noise Cancelling Headphones HROEENOI JZ02 comes with CVC 8.0 Mic HiFi Stereo Sound and Deep Bass,

About 30 Hour playtime per charge

Hybrid Active Noise Cancellation helps to reduce 98 percent of background noises.

Bluetooth 5.0 & CVC 8.0 Microphones provide a virtually unbreakable connection.

It allows us to hassle-free calls through control buttons such as phone calls, skype, meetings, Etc. Through active Noise canceling.

USB-C Fast charging availability allows 30 hours of playtime, and for just 10 minutes, charge provides 4 hours of playtime.
bass booster for mac
how to change bass on mac
bass booster for headphones
bass booster mac
how to bass boost your headphones
bass booster headphones
bass boost on mac
bass boost mac
headphone bass booster
mac bass booster
how to adjust bass on mac
how to boost bass on mac
how to increase bass on mac
how to change bass on macbook
macbook bass booster
mac audio booster
mac bass boost
bass booster for headphone
how to bass boost my headphones
eqmac2
headphone bass test
macbook sound booster
headphones bass test
sound booster for mac