Nvidia Shield vs Steam link Which is Best to Play Games
Comparison between Nvidia and steam link (Nvidia shield vs steam link)
Nvidia and steam link are streaming media systems used for playing games on a computer. They help in streaming games from the gaming PC and internet network. Steam link makes the game controller control games by connecting to the home computer. Steam Link is compatible with a modified version of Linux . It enables root SSH access to the system. Steam and non steam games that run on host computers can be streamed to Steam Link. Nvidia allows the user to play downloaded games . It is used to stream games using an internal NVIDIA GeForce PC and the local network. Nvidia supports 4k resolution. 
Nvidia shield vs steam link
Nvidia vs steam link Compare Features in Table
| | | |
| --- | --- | --- |
| | Nvidia shield | Steam link |
| Manufacturer | Nvidia | Valve |
| Type | Set top box, micro console  | Set top box  |
| Processor | Tegra X1+ | ARMv7 |
| Operation system  | Android 0.9(Pie) | Customised Linux |
| Memory | 2GB or 3GB | 512MB |
| Storage | 8 GB or 16 GB | 4 GB |
| Graphics | 256 core Nvidia GPU | Vivante GC1000 GPU |
| Connectivity | Captive Portal support | Fast Ethernet  |
| Online services  | Nvidia games, Netflix  | Steam |
| weight  | 0.3lbs | 1.9lbs |
Nvidia Shield or Steam link which is best?
Shield is a fully equipped set-top box. It can run apps, stream Live TV and function as a Plex Media Server. Steam Link can only be used for playing games from the game library. Shield TV also provides access to cloud streaming of PC games with GeForce Now. If there is no NVIDIA card, you can't use GameStream. 
Nvidia Shield uses a TV-specific interface. It has its own app that has game specific usage. On opening the NVIDIA Games app , the PC library can be assessed in GeForce Now. It allows use of natively installed games on the Shield. Steam link uses Valve's controller friendly interface known as the Big Picture mode. In a PC that allows 4K HDR gaming and fast local network connection, Shield is extremely responsive. Steam Link can stream only at 1080p resolution at 60fps speed. 
If the priority is only streaming PC games, Steam link is ideal. Advantages are it is cheap and effective. It does not interfere with the rest of the home entertainment system. It is also easy to set up. By using Big Picture mode, it is easy to use. NVIDIA Shield is a versatile product. It is not just a game streaming box. It provides easy access to apps like Netflix and Amazon Prime. Along with the extra functionality, it is Expensive. Nvidia Shield is the better streaming box, but the Steam Link costs way less . The choice depends on the purpose – Steam gaming or gaming with the use of other apps. 
Nvidia Shield Pro and Cons
Nvidia Shield Pro's
Uses 4k resolution
Extremely fast
Unmatched android TV effects
Good user experience
Available wit new features
Affordable
Uses GeForce Cloud Streaming
Nvidia Shield Cons
Cannot display high definition range (HDR)
images on YouTube
It is expensive
Does not contain USB ports
Less user friendly for beginners
Lacks an integrated gamepad
Needs additional transactions
Artificial Intelligence update is not of much use
Steam link Pro and Cons
Steam link Pros
Very responsive
Setting up the console is easy
Uses Wireless 802.11ac 2×2 and Wired 100 Mbit/s Fast Ethernet networks for streaming
It consists of 3 USB ports
Can connect to Bluetooth 4.0
It has HDMI out port
It supports Steam Controller, 360 Wired Controller and Xbox 360 Wireless Controller among others.
Steam link Cons
Requires a fast router
Needs a separate controller
Heat issues are common
Screen scaling problems can occur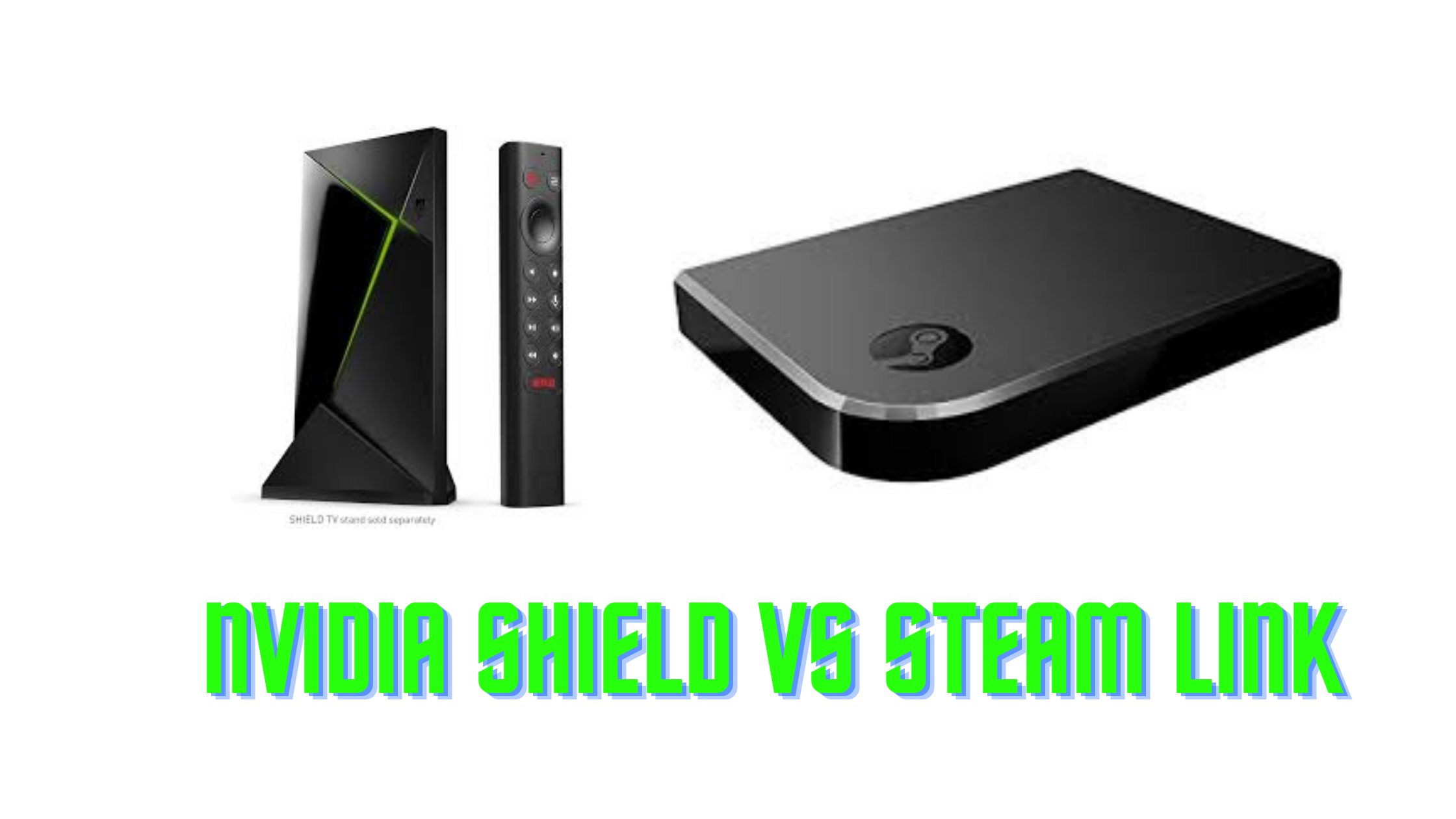 Hardware requirements 
Steam link requires the PC to have H.264 hardware decoding system. NVIDIA shield needs a graphics processor. GTX 600 series or higher and GPU must be the NVIDIA graphics hardware. This can be checked by opening NVIDIA GeForce Experience and looking at My Rig > GameStream. 
PC Gaming
Steam Link lets you stream to every Steam device that uses SteamOs . It is not compatible with a Chrome OS device. Steam link works best with a GTX 1080-powered machine. NVIDIA can only be used to stream games to NVIDIA's Shield devices. It can be played on Chrome Os devices when an open-source project called Moonlight is used. 
Compatibility 
Steam Link cannot be used to play games on Android, iPad, or iPhone. The latest version of Steam Link app can be downloaded on mobile, tablets, and TV for free. Nvidia is compatible with both Android and Apple devices. Steam link can be linked with only the local network. NVIDIA Shield offers remote viewing support. 
How to play PC games using Nvidia Shield?
NVIDIA GameStream technology uses the power of GeForce GTX graphics cards. It allows games from PC to be played on SHIELD devices, for a big-screen living room experience. Using a Nvidia account, log in to GeForce Experience.
The PC should have the latest drivers installed. After updating, select Shield in settings. Turn on the GameStream on.
Tv Shield should also be turned on. Go to GameStream on the Home Screen. Now log in to the account. The device gets detected automatically.
It allows you to play games with NVIDIA GameStream. When keyboard and mouse both are there, the Shield supports both wireless and wired usage.
They can be connected with USB ports or via Bluetooth.
How to play PC games using Steam link?
Turn on the PC, connect to Steam and log in. Power Steam link using a power adapter. Now connect to the monitor system (HDMI).
It can connect to wireless or wired 802.11ac networking. Mouse, controller and keyboard can be linked using an USB port.
Select the PC from the list available and start streaming games on your TV.
For using Steam link on a mobile, open the Steam Link Android app and select the computer. Select "Start Playing," enter the four-digit PIN, and press "Connect."
How to upgrade to Shield TV?
Nvidia upgrades Shield tv to all device patches. A notification regarding the availability of the upgrade pops on the home screen. Select Auto-Upgrade for automatic upgrades.
Go to Settings ,pick Device Preferences. Go to System Upgrade and tick Auto-Upgrade. The time of upgrade can also be selected. 
Also Read – Dolby Cinema vs IMAX
TAGS-
nvidia shield vs steam link
steam link vs nvidia shield
steam link or nvidia shield
nvidia shield or steam link
shield vs steam link
steam on nvidia shield
nvidia shield steam link
steam link vs steam machine
nvidia shield tv vs steam link
steam nvidia shield
nvidia shield vs steam box
nvidia gamestream vs steam link
shield tv vs steam link
steam link vs
steam link vs shield
steam games on nvidia shield
steam box vs nvidia shield
how to play steam games on nvidia shield
steam on nvidia shield tv
steam link nvidia shield
nvidia shield steam games
shield tv steam
play steam games on nvidia shield
play steam games on nvidia shield tv
can you play steam games on nvidia shield
nvidia steam box
does nvidia shield work with steam
nvidia shield stream from pc
steam on shield tv
steam link vs nvidia shield
steam link vs nvidia shield
nvidia shield tv steam
steam link vs in home streaming
nvidia steam link
nvidia shield controller steam
nvidia shield and steam
nvidia shield tv stream from pc
nvidia shield controller steam link
nvidia shield stream desktop
steam games on nvidia shield tv
steam shield
nvidia shield console steam
steam nvidia shield tv
stream pc games to nvidia shield
how to stream games to nvidia shield
can the nvidia shield play steam games
nvidia shield with steam
nvidia shield play steam games
stream pc to nvidia shield
nvidia shield tv steam streaming
can nvidia shield play steam games
nvidia shield stream steam games
nvidia shield pc games
nvidia shield steam streaming
stream games to nvidia shield
nvidia shield steam support
nvidia shield tv steam games
steam on nvidia shield
steam on nvidia shield
nvidia in home streaming
steam games nvidia shield
nvidia shield stream games
streaming pc games to tv
streaming steam to tv
steam for nvidia shield
best games for steam link
nvidia shield streaming games
can nvidia shield play pc games
nvidia shield pc streaming
streaming steam games to tv
nvidia shield stream
nvidia stream to tv
best games on nvidia shield
better than steam link
how to play pc games on nvidia shield without streaming
stream to nvidia shield
nvidia gamestream steam
stream games to tv
can you play steam on nvidia shield
nvidia shield game stream
steam link streaming media player
nvidia shield game streaming
how to stream steam to tv
nvidia shield games without streaming
streaming steam games to tv
best games for nvidia shield
how to nvidia gamestream
how to stream to nvidia shield
how to stream steam games to tv
gamestream supported games
steam streaming to tv
nvidia shield supported games
nvidia shield tablet steam games
steam stream to tv
nvidia shield steam app
steam link vs chromecast
what games can i play on nvidia shield
nvidia shield steam controller
steam link netflix app
nvidia pc streaming
can steam link play netflix
nvidia shield requirements
best games for nvidia shield tv
nvidia gamestream supported games
steam link sound on pc
games for nvidia shield
best shield tv games
games on nvidia shield
nvidia shield best games
nvidia shield pc
pc game streaming to tv
stream steam games to tv
how to play games on nvidia shield
streaming to nvidia shield
stream mac to nvidia shield
best games on nvidia shield tv
play steam on tv
steam link plex
stream game to tv
plex on steam link
steam games on tv
nvidia gamestream games
plex for steam link
steam link hardware decoding
chromecast vs steam link
nvidia shield tv best games
nvidia shield system
games on nvidia shield tv
steam link vs hdmi cable
best steam link games
nvidia steam
stream pc games to smart tv
steam link android tv
games for nvidia shield tv
steam link to tv
what games can you play on nvidia shield
nvidia stream games
steam for tv
best games nvidia shield tv
nvidia stream to android
steam link tv
steam controller nvidia shield
steam link system requirements
gaming on nvidia shield
plex steam link
steam controller with nvidia shield
steam on android tv
playing steam games on tv
nvidia shield top games
nvidia gamestream pc to pc
streaming pc game to tv
steam link stream non steam games
connect nvidia shield to pc
nvidia shield game
steam android tv
can steam link stream non steam games
how to stream steam on tv
good steam link games
steam box stream
what is nvidia shield streaming
steam link netflix
how to stream games to tv
nvidia shield pc streaming review
how to play steam games on tv
how to use steam link on tv
steam pc to tv
steam link with non steam games
how to connect nvidia shield tv to pc
steam link not playing sound
non steam games steam link
steam link desktop streaming
can steam link stream 4k
nvidia shield steam
steam for android tv
steam box tv
steam link audio output
nvidia gamestream mac
daps steam
can i play non steam games on steam link
best way to play steam games on tv
how to stream steam games to android
streaming pc games to android
steam link on fire tv
steam link cost
netflix on steam link
nvidia streaming games
nvidia shield new games
connect to nvidia shield from pc
how to get steam on tv
is the steam link good
steam link lag wired
alternative to steam link
steam link sound not working
stream steam games to android
stream steam to smart tv
what can steam link do
steam link media streaming
steam link best games
steam link netflix app
is steam link good
nvidia shield android games
steam link sound
steam link play non steam games
how to connect nvidia shield to pc
steam link console
4k steam link
how to play steam games on your tv
steam android streaming
best shield games
stream non steam games steam link
steam link media player
best nvidia shield tv games
nvidia shield streaming over internet
steam link amazon video
steam link stream desktop
steam link outside home
steamlink 4k
steam link not streaming audio
can steam link play non steam games
games that work with steam link
how to connect steam link to tv
can you use steam link for non steam games
steam box vs pc
nvidia streaming android
does steam link support 4k
how to play steam on tv
steam link keyboard mouse
steam link without pc
steam link doesn't see computer
stream steam to tv
steam streaming device
nvidia shield tv multiplayer games
play non steam games on steam link
steam on tv wireless
steam link no sound in game
nvidia stream tv
steam link direct to pc
steam inhome streaming android
use steam link to stream desktop
connect steam to tv
will steam link work with non steam games
nvidia shield connect to pc
steam streaming android
steam link video streaming
shield streaming
how to play steam games on my tv
steam link wired
steam on your tv
android steam link
steam link 2.0
best router for steam link
steam stream android
steam android stream
steam stream to android
play non steam games with steam link
steam smart tv
steam link retail
tv steam
steam link processor
steam link alternative
steam link price
steam nvidia shield
steam link non steam games
steam link vs
steam link non steam games
steam link vs hdmi
play steam games on tv
steam streaming box
steam link audio
steam link no audio on tv
steam on tv
steam link can't find host computer
steam link can't find computer
nvidia game stream
nvidia shield streaming