What Is A Multi Room Receiver | How it Works
A multi-zone audio receiver is an audio device that allows you to listen to different sources in different rooms of your home. It can be used with any kind of audio source, including TV , stereo systems, and even music players.
A Multi Room Receiver
Multi-room audio receivers can be a great way to consolidate your audio experience in your home, allowing you to listen to the same content in multiple rooms without having to run separate cables between them. They're also useful for when you want to watch TV or use speakers in another room than the one where you're actually sitting. Multi-room audio receivers provide an easy way to switch tracks or volumes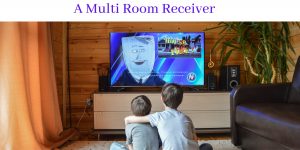 Multi-Zone Audio Receiver Means?
In the past, receivers were designed to play back audio from a single source. For example, a stereo receiver would play music from two speakers. Or if you had a television and VCR connected to your receiver, it would only be able to play back programs recorded on the VCR.
However, with the advent of multi-zone audio systems, it is now possible to have a receiver that can playback audio from multiple zones (or sources). For example, you could have Zone 1 that contains your CD players and MP3 player and Zone 2 that has your surround sound speakers.
How Multi-Zone Receiver Works?
Multi-zone home theater receivers offer a variety of ways to connect and control different sources, but the basic concept is that one source can be sent to multiple zones.
To connect additional audio sources or speakers to your receiver, you will need a multi -zone input. These inputs will typically have a yellow, red or green video switch on the front of them which indicates the type of signal that can be sent through it.
Multi-zone receivers feature built-in amplification for each zone and usually have at least one low-pass filter to ensure seamless transitions between sources in different zones. Multiple Zone Receivers also offer flexible audio scheduling so you can enjoy your music in any room, without having to adjust the volume.
Features Of Multi-Zone Receiver
The following features are related to multi-zone capability, but important for many people.
Dual Subwoofer Outputs – Many receivers provide a second subwoofer output to drive a pair of powered subs in another room. This can provide a much deeper bass sound, which is important for movies and music.
Analog Signal Processing – Receivers with analog signal processing are better at eliminating noise and improving fidelity of your audio. This can make all the difference when it comes to Hi-Fi quality.
Ethernet Port – Many receivers now offer an Ethernet port so you can connect devices like home security systems or media servers to them wirelessly . This saves you time and hassle when trying to connect multiple devices together.
Bluetooth Audio – Many receivers now include Bluetooth capabilities which can allow you to stream your music from a smartphone or other audio device wirelessly.
What are the Benefits of a multi-room receiver
A multi-room audio system can provide a number of benefits, such as the ability to play different music in each room. For example, you could listen to your favourite tunes in the kitchen while making dinner, or if you're having friends over for a party, you could have different music playing in each room.
Multi-room audio receivers are also great for filling up any gaps in your home audio system. If there's one room that doesn't have an accompanying speaker or amplifier, a multi-zone receiver can help to rectify that issue. Plus, if you're entertaining guests and want to avoid having to keep moving between rooms to change the music or adjust the volume, a multi -zone receiver can be a great solution.
Some of the main benefits of using a multi-room audio receiver are listed below:
*multi-room audio can provide varied listening experiences in different rooms;
*a multi-zone audio receiver can boost any gaps in your home audio system;
*multi-room receivers also come with features that make them perfect for hosting guests, such as volume controls and automatic switching ;
*multi-zone receivers can also be used to include additional speakers in other rooms, such as baby monitors or Home Theater A/V components.
Factors to Consider before setup a Home Theater Receiver in Multi-Zones
When setting up a multi-zone system, there are other factors to consider. These include:
 How the receiver's preamp section is configured with respect to how you want the different zones to be used.
 The number of zones that the receiver has, as well as their terminology.
 The number and type of source components that will be used in the system.
  How your home's wiring is configured with regards to zones.
There are other factors to consider when using a home theater receiver in multi-zone setups. One of the main issues is that you need to have an amplifier capable of driving both systems simultaneously, or else the audio will be distorted when switching between zones . Additionally, you'll need to have enough output power in each room to accommodate all of the Audio cables and amplifiers. If there's not enough power available, then the audio may be distorted or unavailable when switching between zones.
Steps to set up a multi-room receiver?
Setting up a multi-room receiver is fairly simple. The most important thing to remember is that each speaker needs to be connected to the receiver in the same way, and that you need to have all of your speakers playing from the same source.
The first thing you will need to do is figure out what type of receiver you want. The most common types are the multi-room system, which consists of a preamplifier and a power amplifier (also known as "the box"), and the zone receiver, which doesn't have a preamplifier.
Next, you'll need to decide how many zones you want the system to cover. For example, if you have three rooms that you want music in (Kitchen, Living Room/Dining Room and Bedroom), then you would purchase a three-zone receiver. If there are only two rooms – like the bedroom and another room down the hall – then a two -zone receiver will be enough.
After you have chosen the type of receiver and determined how many zones it will cover, you'll need to connect each zone to the appropriate input on the receiver. The easiest way to do this is by using an audio cable – however, if you're not comfortable with cables or don't want them running all over your house, there are also wireless zone receivers available.
Once all of your zones are connected, you'll need to connect the receiver to a power source. The preamplifier and power amplifier on multi-room receivers generally take between 4 and 8 hours to fully charge, so be sure to have enough cord length available when setting up your system.
Once everything is set up, you're ready to start enjoying your music!
Most receivers have a series of buttons that are used to set up the system. In most cases, you will need to turn on your receiver, press and hold the "source" button for 3 seconds, and then press the "room " button you want to set up. The receiver will then scan for any devices that are compatible with the network and configure them automatically.
Let us Know about the HEOS system
The HEOS is a smart home system that allows you to stream music from your favorite streaming services like Spotify, Pandora, SiriusXM, Soundcloud and Tidal to any speaker in your home via Bluetooth. You can also connect multiple speakers together using an HEOS A/V amplifier and control them all from one app on your smartphone or computer. What's more, the HEOS system is compatible with Amazon Echo and Google Home devices, so you can use voice commands to turn on/off your speakers, raise/lower the volume, play a song from any streaming service and much more.
The HEOS system is a line of wireless multi-room audio receivers that use the Amazon Alexa voice service. The receiver works with a wide range of speakers and sources, including those made by Bose, Denon, Marantz, NAD, Onkyo, Pioneer, Sony, and Yamaha.
It has a built-in AM/FM tuner with 30 station presets and Pandora Radio compatibility.
The HEOS system also includes the HEOS app for iOS and Android devices. This allows you to control the receiver from your mobile device or supplement it with other voice-activated home controls such as Nest Protect smoke detectors, Amazon Echo speakers (including the second generation), Google Home Mini smart speakers, and IFTTT (If This Then That) macros.
In addition to the HEOS app, there is also a free version of Audyssey Dynamic EQ available for download from www.audyssey.com/heos which allows you to fine-tune the sound in different rooms of your home.
HEOS is a multi-room audio system created by Denon. It was first released in 2012 and is compatible with all of the Denon receivers.
The HEOS system allows you to play music from your smartphone, tablet, or computer on any of the Denon receivers in your home. This means that you can have separate music playing in each room, or even on different zones throughout your house.
The HEOS system also comes with a built-in speaker and amplifier, so you don't need to buy any extra hardware if you want to start using it. Simply connect your devices and start enjoying your favourite tunes!
Also read- How Many Watts Per Channel do I need
Check This – Yamaha RX-V6A AV Receiver Review and Specs
How do I set up a multi room receiver?
Multi room receivers are a great way to enjoy your music, TV shows, and movies in different rooms of your house. They work by receiving signals from satellites and streaming them to multiple devices in the same room.
To set up a multi room receiver, you will need:
1. A satellite dish or antenna
2. A media player (such as an Apple TV or Roku)
3. A set-top box (such as an Xbox One or Play station
4. A compatible receiver
5. An internet connection
6. A speaker system for each room you want to receive signals from
7. A TV or monitor in each room you want to receive signals from
8. An optional subsidiary Antenna
9. A power cord
10. Instructions